Over 10,000 items in our stock ready for same day dispatch!
Or 'Click & Collect' from our Twickenham Superstore
×

















Festool 577811 ExoActive EXO 18 HPC 4,0 I-Plus


Click & Collect in Store
In Our Stock
Ready For Despatch
Order within
21h 54m
for next working day delivery on
Tuesday 5th December
LOGIN TO ADD FAVOURITES
£11.66 LOYALTY POINTS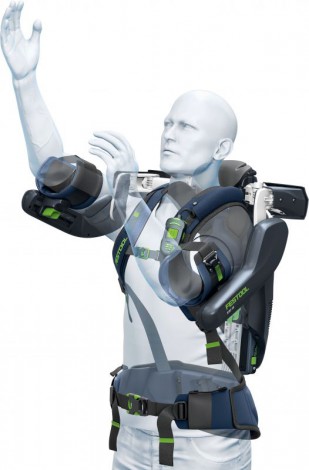 Festool 577811 ExoActive EXO 18 HPC 4,0 I-Plus

In Our Stock
Ready For Despatch
Order within
21h 54m
for next working day delivery on
Tuesday 5th December
Festool 577811 ExoActive EXO 18 HPC 4,0 I-Plus
Instore Display Where You Can Try One On!
Extrapolated power for your arms. Work effortlessly, even overhead.
The ExoActive exoskeleton now makes light work of strenuous overhead tasks. Whether dry mortarless construction, painting, wallpapering or installation, whether on walls or ceilings, The ExoActive gives you extrapolated power when your arms get tired and takes the load off your neck. For you, less physical exertion means greater efficiency, greater focus on the quality of your work and greater enjoyment of your work. You can regulate the required power on the exoskeleton in a matter of seconds so you get targeted support precisely where it's needed. The ExoActive is lightweight and easy to wear, just like a rucksack, and can also be adjusted to your individual height.
Supportive: The active system allows you to work overhead without tiring.
Conserves your energy: Helps to avoid overloads in the long-term.
Stay focused: With support from the ExoActive, you will be able to concentrate for longer, you will be less fatigued and you will work more efficiently.
Individual control: You can choose between three working areas depending on the application and regulate the level of support in five different settings.
Easy to put on: Like a rucksack, can be adapted to the individual height simply and quickly thanks to various adjustment options.
Maximum freedom of movement: Close-fitting.
Washable: The textile and belt parts can be replaced quickly thanks to the simple changing system.
Compatible: Part of the Festool 18 Volt System with system battery and all of the associated advantages.
Exceptional: Fully covered by Festool Service upon registration within 30 days of purchase (festool.co.uk/service/warranty-all-inclusive).
Main applications
Relief when working in front of the chest and overhead – with up to 5 kg/50 N support force per arm
Offers support and relief when it comes to applications with tools, but also during manual assembly or activities with hand tools
With the battery pack capacity of 4.0 Ah, the runtime is between 1.5 and 5 h – depending on application and especially the movement dynamics
Specifications
Battery voltage: 18 V
Technology: Bluetooth®
Drive type: Battery
4.0 Ah runtime: 1.5 - 5 h
Battery capacity: 4.00 Ah
Product weight without accessories: 7.00 kg
Transport weight incl. accessories: 13.30 kg
Supplied with:
TG-EXO 18 carrying harness
KS-EXO 18 headrest
2x BP 18 Li 4.0 HPC-ASI battery pack
rapid charger TCL 6
EPP transport box
Explore the Festool ExoActive Microsite HERE