Makita DLS714NZ 36V (18v x 2) Li-ion Cordless Brushless Mitre Saw - Body Only
(Note: does not accept a 36v battery)
Powered by two 18V Li-ion batteries in series to supply energy to the powerful 36V DC motor drive system. (not supplied). Accepts 3.0Ah, 4.0Ah or 5.0Ah batteries or one of each
Please note this video shows the US model and may differ from UK model
---
2x 18v Batteries will power the 36v DC motor.
The 36v DC motor delivers more power and run time without leaving the 18v Lithium-ion platform.
When different capacity batteries are used together (for example, 4.0Ah BL1840 and 3.0Ah BL1830, or fully charged BL1830 and 70% charged BL1830), the machine stops when the battery with less capacity is empty.
Model DLS714 is a 190mm (7-1/2") cordless slide compound miter saw powered by two 18V Li-ion batteries in series, and the power is comparable to AC models.
Features:
Powered by two 18V Li-ion batteries in series to supply energy to the powerful 36V DC motor drive system.
Brushless motor.
Double Sliding Mechanism
Soft start
Easy to Grip handle with anti-slip elastomer surface
LED indicator panel for battery fuel and indication of automatic speed control
Electric brake
Equipped with Battery protection circuit: designed to protect the battery from damages due to overdischarge, high temperature or overload current.
Cuts up to 300mm in a singe pass
Specifications
Battery TypeLithium-ion
Voltage 36 (18x2) v
Body only machine
Blade Diameter 190 mm
Bore Diameter 20 mm
No Load Speed 5700 rpm
Max bevel range 45 - 5 º
Max mitre range 47 - 57 º
Max Cutting Capacity 52 x 300 mm
Noise sound pressure 88 dB(A)
Noise sound power 97 dB(A)
Noise K factor 3 dB(A)
Vibration K factor 1.5 m/sec²
Vibration no load 2.5 m/sec²
Net weight13.5 kg​
Supplied With:
No Batteries & No Charger!
Bevel Angle
Mitre Angle
0

°

45

° (left)

5

° (right)

0

°

52 x 300mm
40 x 300mm
40 x 300mm
45

° (left/right)

52 x 212mm
40 x 212mm
-
57

° (right)

52 x 163mm
-
-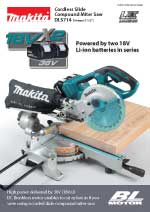 Click on cover above for interactive leaflet and video