Leica Disto D2 Bluetooth Laser Distance Meter
The new Leica DISTO D2 BT comes with Bluetooth® Smart data transfer that links to the Free Measuring App! This small and handy laser distance meter has an impressive range of 100m and is equipped with many useful functions. Measurements out of corners or from edges are no problem with the multi-functional end-piece. All in a handy compact unit which fits easily into your pocket.
A fantastic choice for the professional tradesman & the home improvement enthusiast. Ideal for quotations using the FREE DISTO Sketch Application for the iPhone, iPad or Android tablet, and you can sketch or photograph your project and transfer the measurements directly via Bluetooth. Save, email or publish your results.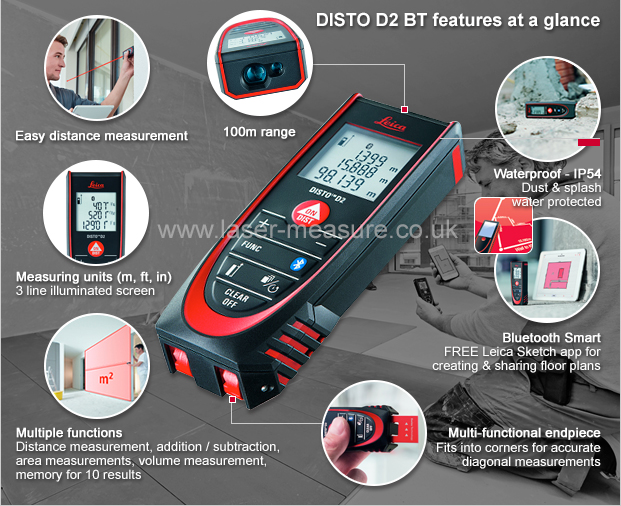 The Bluetooth Smart technology allows you to easily document & exchange data wirelessly from the work site to office.
The DISTO D2 is capable of more than just measuring, data can be conveniently & accurately transferred via integrated Bluetooth. The free Leica DISTO Sketch App allows you to create floor plans or data tables on iPhone or iPad. Dimensions can be entered onto photographs with no effort.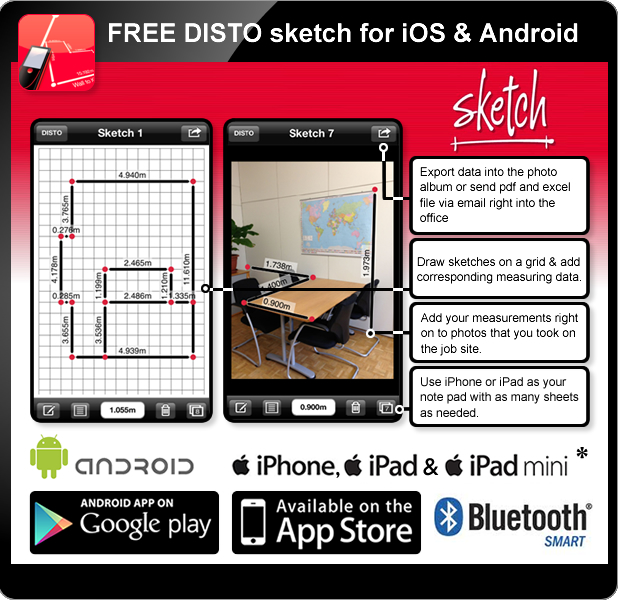 Bluetooth® Smart
The latest Leica App DISTO™ sketch is the ideal link between the Leica DISTO™ D110 and a smartphone or tablet. With it you can prepare layouts and drawings, and dimension them precisely.
Intelligent end-piece
Whether measuring out of corners, slots or from edges, with this end-piece you are prepared for all measuring situations. The instrument detects the end-piece automatically, which helps to avoid expensive measuring errors.
Long distances
With the help of the innovative X-Range Power technology this small device can measure long distances of up to 100 m. In addition, this technology ensures optimum measuring performance, i.e. fast and reliable measurements.
Useful functions
Functions such as addition and subtraction, area and volume calculations make every measurement task child's play. The instrument stores the last 10 measurement results.
---
Features:
Bluetooth® Smart for data transfer to smart phones and tablets
Multifunctional end-piece to measure out of corners and from edges
100 m range
X­Range Power Technology
Clear, illuminated 3 line display
IP 54 dust and splash water protected
What's included:
DISTO pouch
Batteries
User manual
3 Year warranty