METABO TS254 240V PORTABLE TABLE SAW PACKAGE
THE BENCHMARK FOR MOBILITY - THE MOST COMPACT OF ITS CLASS
The new TS 254 makes it even easier for you as a professional to have a table saw on site. Its stand is completely integrated into the saw housing and can be extended and stowed away in a matter of seconds. This doesn't make it only uniquely compact, but it is also by far the lightest table saw of its kind. Furthermore, all attachments can be stowed away in a compartment on the casing. Thanks to the hard rubber tyres, the TS 254 can be pulled easily, thus setting a new benchmark for mobility in compact table saws.
The lightest mobile table saw
With 33.4 kg including stand, the TS 254 is up to 50% lighter when compared to other mobile table saws in its class (including stand with wheels)!
Integrated foldable stand
Compact and extremely stable at the same time!
Second working height
allowing you to work near ground level
SET UP IN ONLY 15 SECONDS!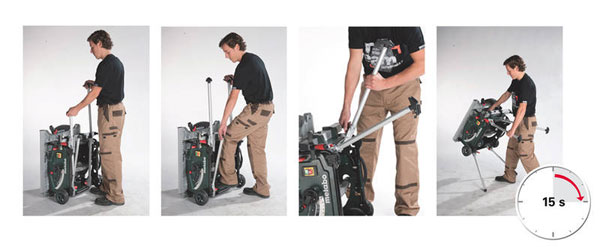 MORE HIGHLIGHTS

For your safety:
Fast motor brake brings the saw blade to a standstill in just 3 seconds

No-volt release switch – prevents accidental startup of the machine after a power cut
For your productivity:
High torque 2,200 Watt motor with electronic overload protection

Riving knife that can be lowered without needing tools for short setup times

Automatic resetting to 0 – 45 ° after undercuts
Specifications:
Dimensions (L x W x H): 740 x 750 x 355mm

Table size L x W (min/max): 670/970 x 715/995mm

Working height 850/355 mm

Maximum cutting height (90°/45°) 87/50 mm

Max. cutting width at parallel guide 630 mm

No-load speed 4.200/min

Max. cutting speed 56 m/s

Saw blade Ø 254 x 30 mm

Rated input power 2 kW

Saw blade swivel range -1,5° bis 46,5°

Weight including stand 33,4 kg
Supplied with:
Carbide circular saw blade with alternately bevel-ground tips (40 teeth),

stand,

hard rubber tyres,

parallel guide/ripping fence,

mitre guide,

table length extension,

table width extension,

saw blade case,

rubber cable (3 m), push stick