Over 10,000 items in our stock ready for same day dispatch!
Or 'Click & Collect' from our Twickenham Superstore
×






Dewalt DHS780T2 305mm 54V XR FLEXVOLT Brushless Cordless Mitre Saw - 2 x 18/54V 6.0Ah/2.0Ah Batteries & Charger


Click & Collect in Store
In Our Stock
Ready For Despatch
LOGIN TO ADD FAVOURITES
£2.50 LOYALTY POINTS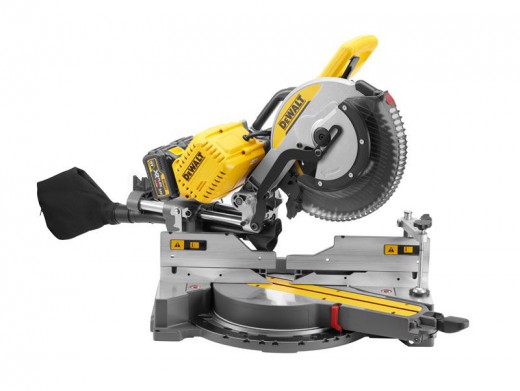 Dewalt DHS780T2 305mm 54V XR FLEXVOLT Brushless Cordless Mitre Saw - 2 x 18/54V 6.0Ah/2.0Ah Batteries & Charger

In Our Stock
Ready For Despatch
Dewalt DHS780T2 305mm 54V XR FLEXVOLT Brushless Cordless Mitre Saw - 2 x 18/54V 6.0Ah/2.0Ah Batteries & Charger
Introducing the world's first cordless 305mm mitre saw with the perfect combination of power, accuracy, capacity and cordless freedom. The DHS780 mitre saw is also Airlock compatible, offering the user added protection. Using 54V batteries only.
The DEWALT DHS780 FlexVolt XR Mitre Saw has a brushless motor and hybrid drive with a compact design. It has been designed for large-volume use and even has a dust-proof trombone cut-out for the machining of larger work pieces. The high-quality bearing guide rollers ensure a comfortable and precise cutting guide with an expanded cutting capacity of up to 330 x 58mm.
The XPS cut-line display provides even more precision, with bright LED's that project the saw blade's shadow onto the work area from above, allowing the workpiece to be aligned exactly and the cutting area perfectly illuminated.
Features:
2x 54V cordless or mains power supply for ultimate flexibility
Outstanding cutting performance in both small profiles and large construction timbers up to 110 x 303 mm
XPS Shadow line cut indicator provides fast accurate alignment of the blade while illuminating the work piece for increased productivity no adjustment required
Heavy duty durability with the ability to fully adjust your machine to mainatin accuracy over the life fo the tool.
New quick release bevel stop setting provides accurate and simple setting of bevel angles up to 49° left and right
Easy to use mitre and bevel controls making the tool fast and simple to change from one set up to another
Cam action mitre lock function makes mitre setting faster and easier allowing the user to quickly adjust angles between 0° - 50° left and 0° - 60° right
Long life Accuracy in Table and Fence Design
The large dual sliding fence gives maximum support in large material cuts at any angle or combination of angles
Linear horizontal rails utilise bronze guides to provide maximum precision when cutting materials up to 345 mm wide
Compact and lightweight design characteristics deliver a saw with enormous capacity which is easy to transport around the jobsite
Outstanding dust control and deflection away from cutting area
The innovative grooving stop allows the adjustment of the cutting depth for grooving and rebating applications
Specifications:
No load speed 3800rpm
Blade size 305mm
Blade bore 30mm
Bevel capacity 49°
Mitre capacity [right / left] 60/50°
Cutting capacity at 90° / 45° (W x H) 211 x 112°
Cutting capacity at 90° / 90° (W x H) 303 x110°
Weight 25.5kg
Supplied with:
2 x DCB546 18/54V 6.0Ah/2.0Ah batteries
DCB132 battery charger
DT99575 305 x 30mm x 60T 60 tooth saw blade
Dust bag
Please note the battery adapter is no longer available.