LEICA RUGBY 610 ROTATING LASER KIT WITH RODEYE RECIEVER, CASE, TRIPOD & STAFF (RECHARGEABLE Li-ION)
The new Leica Rugby 610 Laser Level is possibly the best value laser level on the market. Built with Leica quality: built with Leica precision: delivered with a 5 Year Warranty for peace of mind. All of this at a competitive market price.
Rugby 610 - features at a glance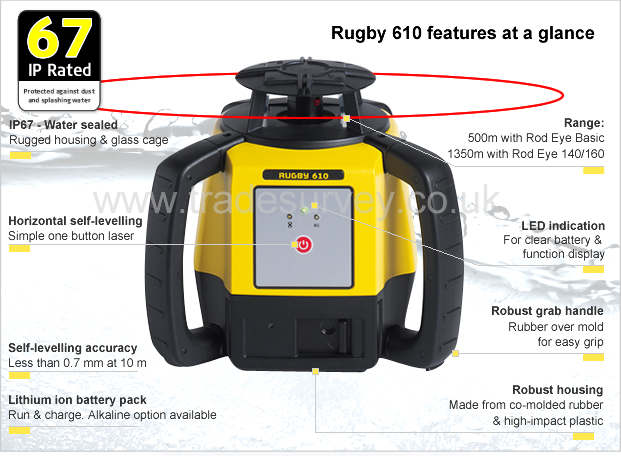 Levelling at the press of a button - reliable and simple. Press the button and the laser does the rest. The laser silently levels before rotating to give a clear red beam that can be detected at up to 300 metres (depending on receiver) with the laser receiver. One button means that you cannot make a mistake ensuring a true grade reading time after time. If the laser is knocked the height alarm will sound and the laser will stop rotating. It can be restarted when the laser position has been rechecked.
Further information on the Leica Rugby 610
Built to exacting standards, the Leica Rugby 610 is not only robust and site proof but it is waterproof to IP67 Standard, designed for the harshest of British winters - and summers!!! That means rain, mud, snow you can rely on the Rugby 610 to keep working.
5 reasons to purchase the Leica Rugby 610 Laser Level
Tough and waterproof - It's built for the construction site, extremely durable laser housing

Easy to use - fully automatic, one button simplicity, it's impossible to make a mistake.

Superb performance - work longer, work more accurately, work in all weather conditions.

It's a LEICA - Quality guaranteed - what other laser level comes complete with a 5 year no quibble warranty covering all aspects of the lasers parts including wear and tear.

Complete package - with different battery options and the choice of laser receivers, the Rugby 610 offers a package for your specific needs.
Features:
Operating range 600m diameter

Self-leveling Accuracy* ±2mm at 30m (±3/32" at 100 ft)

Robust and Waterproof - IP67

Self-levelling horizontal, one button laser

Rotating Speed 10rps (600 rpm)

Automatic self-leveling mode.
Supplied with:
Carrying case

Rod Eye Basic (RE 140/160 available)

Li-Ion Battery

Li-Ion Recharger

User manual on CD

Quick start guide

Safety instructions

PROTECT by Leica Geosystems card

Producer inspection certificate