Tormek T-8 Sharpening System & TNT-808 Woodturners Accessory Kit
THE MOST ADVANCED WATER COOLED SHARPENING SYSTEM AVAILABLE allows you sharpen your tools to the finest edge. Tormek's innovative sharpening system has come to be appreciated worldwide for its unbeatable versatility, accuracy and ease of use. T-8 maximises the precision thanks to the revolutionary fully cast housing which guarantees minimal play for the Universal support. This gives you the best conditions possible to succeed with your sharpening.
Tormek's unique drive system is efficient and manages to hold a constant speed, even under full load. The Tormek Original Grindstone sharpens all qualities of steel, including HSS. The machine features a number of elaborated details, like instant stone locking with EzyLock, water trough with lift and a removable magnet scraper for efficient cleansing.
Specifications:
Dimensions: Width 270 mm (10 5/8"), Depth 270 mm (10 5/8"), Height 330 mm (12")
Weight: Shipping weight 17,8 kg (39 lbs), Machine only 14.8 kg (32.6 lbs)
Grindstone: Tormek Original Grindstone, Aluminium oxide, 250×50 mm (10"×2") 90 rpm, torque 14.7 Nm
Leather Honing Wheel: 220×31 mm (8 5/8"×1¼")
Main Shaft: Stainless steel main shaft, stone hardware and EzyLock.
Housing: Zinc cast top and frame. Sides in ABS plastic.
Motor: Industrial single phase, 200 W (input) 230 V, 50 Hz or 115 V, 60 Hz. Continuous duty, Maintenance free. Silent running, 54 dB. 25,000 hour life

On the new T-8 model, Tormek has integrated the previous mounted sleeves for the Universal Support into the fully cast housing. That guarantees minimal play for the Universal Support; an innovation which improves the control of the sharpening and increases the accuracy of the final results.

With an updated design and several upgraded details, the T-8 gives you the best conditions possible for a successful sharpening with top results.

The Advanced Water Trough has been further improved with a screw lift for an easier fitting and a magnetic scraper for efficient cleansing.

For long tools that drip water over the edge of the lip (like chef's knives and planer blades), you can add the water chute. Set the widest edge of the chute onto the tab in the middle of the lip of the trough and the water chute will direct the water back into the trough from even the longest tools.

The removable scraper incorporates a strong magnet, which attracts the steel particles ground from the tools being sharpened. This keeps your stone clean and cutting more freely. These small steel particles would otherwise be pressed into the stone surface and can affect the sharpening. When you clean the water trough, you'll find that most of the steel will be located on the magnet. When you remove the scraper, the magnet will release the steel particles and you can easily clean the trough.
---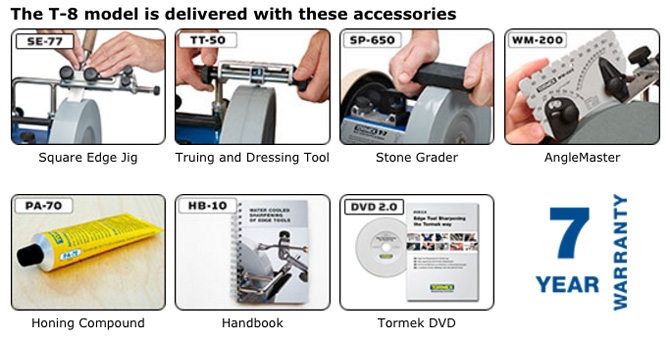 ---
TNT-808 Accessory Kit comprises:
A comprehensive kit of jigs for those using wood turning tools - this kit offers Tormek accessories at great value for money.Kit contains the following:
Packed in a high-quality storage case with foam insert
SVD-186 for turning gouges and tool tips
SVS-50 for carving and lathe tools
TTS-100 angle and setting gauge for SVD-186 and SVS-50
SVD-110 support plate with Torlock
LA-120 profile impeller
MH-380 grinding machine cover
TNT-300 DVD and comprehensive tuition manual
Gouge and Turning cutter Jig

For fingernail shaped bowl gouges and spindle gouges. Can be set to create the edge geometry of your choice. Also for exchangeable cutters of any shape.

Multi Jig

For skew chisel with a straight or a curved edge. Can be set for any skew angle. Even for skews with oval section. Also for parting and beading tools and roughing gouges.

Turning Tool Setter

For instant setting of the geometries on gouges and skews when using the SVD-185 and the SVS-50 jigs. With built in edge geometries. Works on any stone diameter.

Tool rest with TORLOCK

For scrapers, hollowing tools and thin parting tools. Secure locking on the Universal Support thanks to the patented design.

Profiled Leather Honing Wheel

For honing and polishing the flute on gouges. With two exchangeable profiles. One with a 3 mm (1/8") radius and one with a 60° point.

Machine cover

For protecting the machine from shavings and wood dust.

Woodturner's Instruction Box

An 1 hour and 20 minutes comprehensive DVD made by Jeff Farris and a detailed handbook by Torgny Jansson shows how to best work with the Tormek TNT sharpening system.