Metabo Basic Set 3 x LiHD 5.5Ah, 3 x 18V LiHD 5.5Ah, ASC30-36V + MetaLoc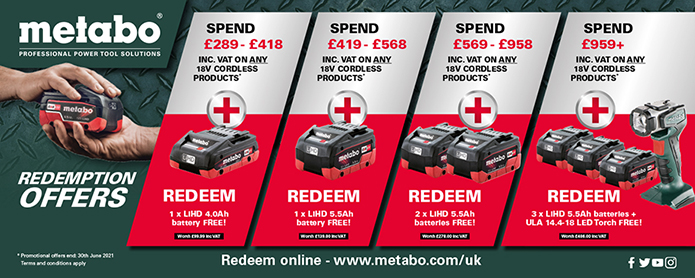 Promotion offers: 1st Feb - 30th June 2021
3 x LiHD battery pack 18 V/5.5 Ah
Charger ASC 30-36 V
Metaloc II
A milestone in battery pack technology.
67 % more power – permits completely new applications with battery powered machines
87 % longer run time – for even more endurance
100 % longer service life – makes your investment even safer
Makes applications possible under most demanding conditions, which had previously been reserved only for powerful mains-powered machines.
New definition of independence: a milestone along the path towards a cordless construction site
100 % compatible and fits all current and future cordless machines from Metabo
LiHD – a completely new dimension in technology:
The combination of new high-performance battery cells and completely newly developed components in the pack ensure that maximum power remains available for an extremely long time: Metabo has perfected this revolutionary battery pack technology to its pinnacle.
Revolutinary LiHD high-performance cells:
Completely new electromechanical design with significantly stronger conductors, which in combination with more active material, permit a
significant increase in the accessible power output
resulting in more usable energy for you
Massive power rails capable of handling high currents, enlarged contact and cell connectors made from a special CU alloy, conduct the current with reduced losses.
Increased service life thanks to:
less frequent charging thanks to greater useable energy
significantly lower heat generation for protection of the cells
Increased run time thanks to:
an increase in active cell material
high-quality materials (silver and copper) in combination with stronger conductors - this permits a more efficient energy flow
100% compatibility
with all current and future cordless machines from Metabo.
---
36 months Free Full Service for all cordless products

D&M Tools are a Metabo Li-HD Partner, when you purchase this tools from us you are eligble to receive 36 months of free warranty and wear and tear repairs + theft protection.
For full details and T&C click here (or on the logo)