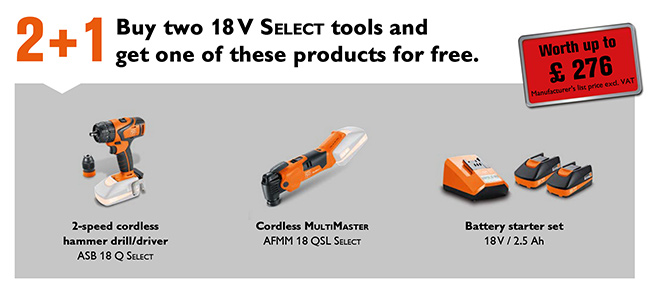 Claim one of the tools above when you buy this twin pack.
CLICK THE BANNER ABOVE FOR DETAILS (Please note FREE tools are received by redemption via Fein)
Offer valid until 31st July 2019 while stocks last
NEW TWIN PACK:
ASB 18 Q Drill/Driver & ASCD 18 W4 Impact Driver​
A great value combination of 18V brushless combi drill/driver and 18V brushless impact driver.
Contents:
ASB 18 Q drill/driver
ASCD 18 W4 impact driver
2x HighPower batteries
NEW ALG 80 rapid charger.
Specifications:
ASB 18 Q Drill/Driver
Battery voltage 18 V
Motor brushless
Gearbox 2-speed
Interface QuickIN
Speed, no load 450 / 2 000 rpm
Impacts 7 360 / 32 000 rpm
Max. torque (hard/soft) 60 / 32 Nm
Torque levels 22 + 1
Drill chuck clamping width 1,5 - 13 mm
Fastening 8 x 300 mm
Capacity in steel Ø 13 mm
Capacity in wood Ø 50 mm
Capacity in stone Ø 13 mm
Tapping M 10
Weight without battery 1,30 kg
ASCD 18 W4 impact driver
Battery voltage 18 V
Battery capacity 5 Ah
Motor brushless
Speed, no load 0 - 1 500 rpm
Impacts 0 - 3 000 rpm
Max. torque 210 Nm
Torque levels 6
Tool Holder ¼" hexagon socket
Wood screw Ø 8 x 200 mm
Weight with battery 1,70 kg
Weight without battery 1,00 kg