Leica D510 Disto Laser Distance Meter + Protective Hard Case Free!
********D&M DEAL*********
SUPPLIED WITH PROTECTIVE HARD CASE WORTH £29.00!
---------- LATEST NEWS! -----------
Bluetooth® Smart is also supported by smartphone and tablet devices running on the Android 4.3 operating system with a Bluetooth® 4.0 hardware interface. Many smartphones provide Bluetooth® 4.0 already for some time but only with the update to Android 4.3 this hardware feature will be supported.
The latest version of the Leica DISTO™ sketch app for Android allows to connect with Leica DISTO™ D3a BT and D8 (both are Bluetooth® 2.1 with SPP profile) or with the Leica DISTO™ D510.
The free Leica DISTO™ sketch app can be downloaded from the Google play store.
Click on the links below for more videos:
Presenting the new Leica DISTO D510, the world's only ISO 16331-1 certified laser distance meter with digital Pointfinder- ideal for outdoor use on construction sites. Designed for real job site use, the D510 meets tough IP65 certification - dust and waterproof. The Leica DISTO D510 features Bluetooth Smart 4.0, enabling communication to the latest Apple iPhone and iPad devices. This is a major step in improving the workflow of anyone that needs to document and exchange data wirelessly from the work site to office.
The intuitive and customizable display of the Leica DISTO™ D510 has been built using standards from the latest Smartphones. The result: you are up and running in minutes! Even beginners can easily use the most powerful functions thanks to the on-board help screens.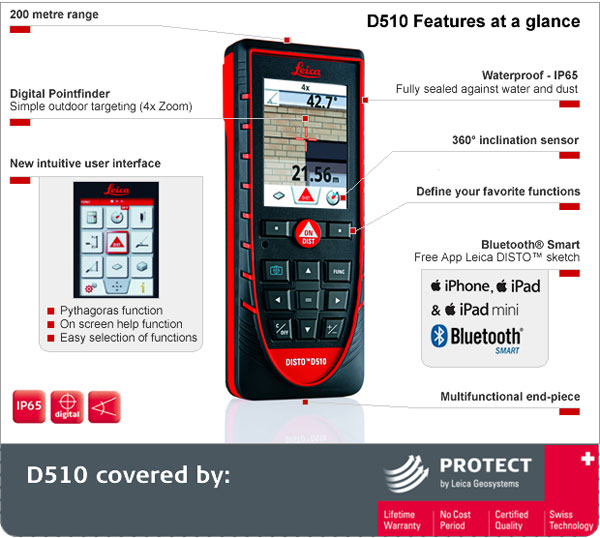 Easily document and exchange data wirelessly from the work site to office.
The Leica DISTO D510 is capable of more than just measuring. Measurement data can be conveniently and accurately transferred using the integrated Bluetooth Smart Technology. The Leica DISTO Sketch app supports the creation of floor plans or data tables on iPhone or iPad and it is included free. Dimensions can be entered onto photographs with no effort.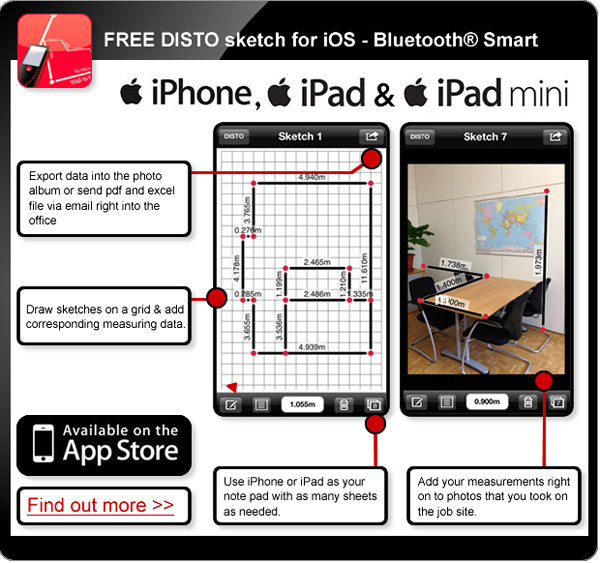 Pointfinder with 4X Zoom


Even when laser point is no longer visible to the naked eye, the target can be seen perfectly in the crosshairs in the Leica DISTO D510 display.

360° high-accuracy tilt sensor


Allows measurement of angles and true horizontal distances. The combination of the Pointfinder and tilt sensor makes powerful indirect measurement possible.

Multifunctional end-piece


Whether measuring out of corners, slots or from edges, with this endpiece you are prepared for all measuring situations. The instrument detects the end-piece automatically.

New user interface

Intuitive and simple to use. Choosing the right function for the right application is easy Customizing makes daily applications simple and quick.
Features of the Leica DISTO ™ D510
Power Range Technology ™, range 200m

Flip-out end-piece with automatic position detection

Clear illuminated 3-line display

Pythagoras function - for indirect height and width measurement of inaccessible places

Many more functions - plus, minus, area and volume calculations, stake out function

Horizontal and diagonal measurement

Accuracy in accordance with ISO Standard 16331-1: the standard for laser distance meters
Additional information
Rain or shine, indoor or outdoor, the Leica DISTO D510 is ready to work. With tough IP65 certified construction, 200m range, digital Pointfinder and ±1mm accuracy (ISO 16331-1) the Leica DISTO™ D510 belongs in every professional's toolbox. Providing simple solutions to complex measuring tasks is the promise of Leica Geosystems.
Laser pin point accuracy ± 1 mm

IP 65: Dust tight and jet water protected with sealed keypad

Multifunctional end-piece

Power Range Technology™ - range 0.05 - 200m

Pythagoras with angles, Indirect measurement of heights

Recall of last 10 measurements

360° angle measurement

Free App Leica DISTO sketch for iPhone, iPad, iPod touch with Bluetooth 4.0

Bluetooth
Case & batteries

3 year warranty