LEICA Disto D110 Laser Distance Meter
---
It's small, it's accurate, it's easy to use; the new Leica DISTO™ D110 laser distance measure with Bluetooth® Smart. The new slim pen style shape with securing clip makes it easy to slip in the pocket or clip to your belt ensuring you laser measure is as accessible as the old tape. Simple to use the Disto D110 measures 60 metres with an accuracy of 1.5mm and quickly calculate and measure areas of walls and floors for all your material needs.
Ideal for both the professional tradesman and the home improvement enthusiast, the Leica Disto D110 is excellent value for money. Planning a project? Download the FREE Disto Sketch Application onto your Iphone, Ipad, Android tablet and you can sketch or photograph you project and transfer the measurements directly via Bluetooth smart to your project. Save, email or publish your results.
Key Features of the Leica DISTO D110
New handy shape and unmatched ease of use

Extended functionality with built-in

Bluetooth® Smart and Leica DISTO™ sketch app

Ideal for quick distance and area measurements

Removable pocket clip for easy carrying

Leica Geosystems technology, quality and precision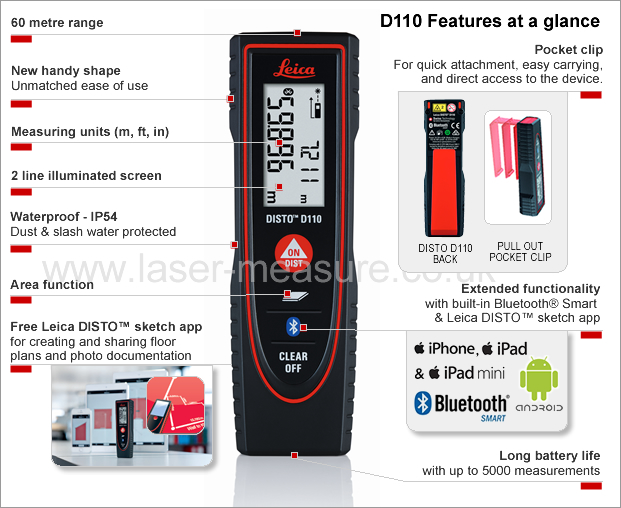 Bluetooth easily document and exchange data wirelessly from the work site to office.
The DISTO D110 is capable of more than just measuring. Measurement data can be conveniently and accurately transferred using the integrated Bluetooth Smart Technology. The Leica DISTO Sketch App supports the creation of floor plans or data tables on iPhone or iPad and it is included free. Dimensions can be entered onto photographs with no effort.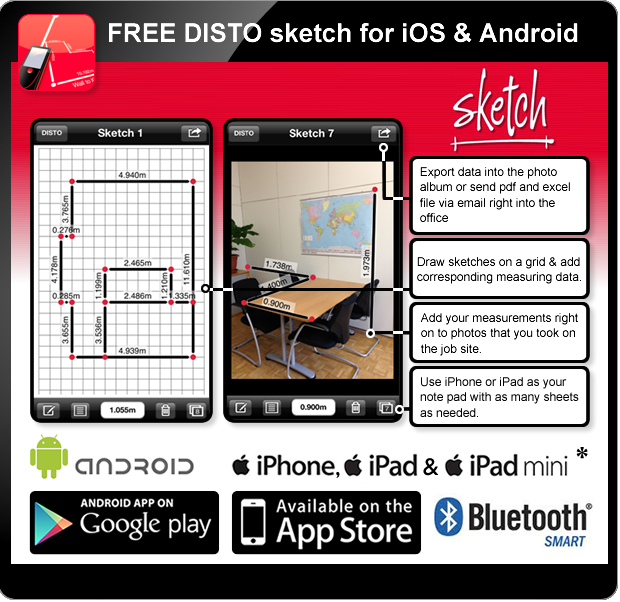 Typical Measuring Tolerance* ± 1.5 mm / ± 0.06 in ***
Maximum Measuring Tolerance**: ± 3.0 mm / 0.12 in ***
Range at Leica target plate GZM26: 70 m / 230 ft
Typical Range*: 0.2-60 m / 0.6-200 ft
Range at unfavourable condition **** : 30 m / 98 ft
Smallest unit displayed: 0.1 mm / 1/32 in
Power Range Technology™ yes
Laser class 2
Laser type 635 nm, < 1 mW
Ø laser point at distances: 6 /30 / 60 mm, 10 / 50 / 100 m
Protection class IP54 (dust- and splash water protected)
Autom. laser switch off after 90 s
Autom. power switch-off after 180 s
Bluetooth® Smart Bluetooth v4.0
Range of Bluetooth® 10 m
Battery durability (2 x AAA) up to 3000 measurements
Dimension (H x D x W) 120 x 37 x 23 mm, 4.72 x 1.46 x 0.91 in
Weight (with batteries) 92 g / 3.25 oz
Temperature range:
- Storage -25 to 70 °C, -13 to 158 °F
- Operation: -10 to 50 °C, 14 to 122 °F