NOVEMBER 2020
Weekly On-Line Event - Saturday 28th November

You are invited to Record Power's Live
International Woodturning Demonstration

Saturday 28th November 00:30am (half past midnight!) or 9:30am
Please click the banner above to download your personal RSVP invitation, for the next instalment of Record Power's Live Sessions …a Free Educational Programme for Woodturning.
These weekly On-Line International Woodturning Live Sessions, aka 'Interactive Remote Demonstrations' (IRD's) are brought to you via Zoom direct from
Theo Haralampou's studio workshop in Brisbane Australia.
---
Turning a Natural Edge Winged Burl Bowl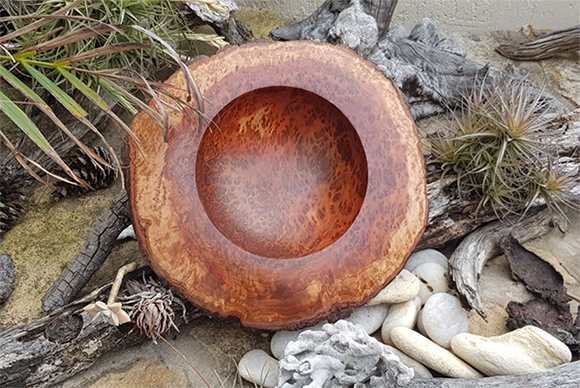 In this session, Theo takes bowl turning to the next level.
Not only does he create a beautiful form from a burl, but adds an additional dimension with natural edged wings.
Theo discusses the do's and don'ts of burl selection and walks us step by step through the process of creating a highly figured yet functional artwork.
This week, Theo will be covering:

Characteristics of burls.

Centering and mounting.

Optimum speeds for bowl turning.

Bowl turning tools, grinds and techniques.

Getting the best finish off the tool.

Scraping, power sanding and finishing.
We run two sessions each week, both with the same content, from Brisbane, Australia.
The first will not be an ideal time for you in the UK…( just after midnight on a Saturday morning), but the Second Session will be 9.30am Saturday 28th November.
We encourage you all to bring along your woodworking friends and join our Live Session community.
Please RSVP on the Invitation form or simply send an email to miked@recordpower.co.uk with RSVP in the subject line to register, and you will be sent your Zoom log in code by return email.
(Please let us know which country you will be joining us from and which session you would like to attend with your RSVP.)
Your friends and fellow club members are welcome to join too
…all they need to do is send an RSVP.
OCTOBER 2021


Our 20th Anniversary Show!
Friday 8th - Sunday 10th October 2021
10am - 5pm (4pm Sun)
Our annual extraveganza returns to Kempton Park Racecourse
More details on our dedicated website: www.thetoolshow.com
Click the box above for a selection of photographs from last year's show.
Below are the video highlights from the 2019 show.
---
Tour of the Ground Floor of The Tool Show '19, thanks to Sylwester Sliminski for posting the video above
---
Great video from the 2019 show by Yeti Tools - developer of the new Trend CNC SmartBench