Similar products can be found in these categories:
Dewalt Power Tools
NEW DeWALT XR FlexVolt Tools, Batteries & Accessories
Dewalt Power Tools
DeWALT Cordless Saws & Jigsaws
Cordless Saws - All types
Cordless Circular Saws & Plunge Saws
This Promotion Includes The Following Items

1 X DEWDWS5022

DEWALT DWS5022-XJ 1.5M GUIDE RAIL
Dewalt DCS576T2 54V XR FLEXVOLT Circular Saw (track) - 2 x Batteries And Fast Charger - With DWS5022 Rail
Features:
Scale for precise cutting depth setting to 61 mm
General purpose ripping, cross-cutting and bevelling circular saw for wood and other construction materials
High torque motor for durability and power for cutting job site and joinery materials
Guide rail compatible for quick and easy use with the DEWALT guide rail system
Additional handle for safe two-handed work
Variable adjustment of the bevel angle to 57 degrees
Specifications:
No Load Speed 5800 rpm
Blade Diameter 190 mm
Blade Bore 30 mm
Bevel Capacity 57 °
Max. Depth of Cut at 90º 61 mm
Max. Depth of Cut at 90º[with guide rails] 57 mm
Max. Depth of Cut at 45º 43 mm
Max. Depth of Cut at 45º[with guide rails] 39 mm
Supplied with:
Precision 24 tooth saw blade
Rip Fence
Blade Spanner
T-STAK
Dust Extraction Spout
2 x 54V XR FlexVolt 6.0Ah Batteries with charge indicator
Fast Charger
---
DEWALT® XR FLEXVOLT: the World's first 18/54V convertible battery pack system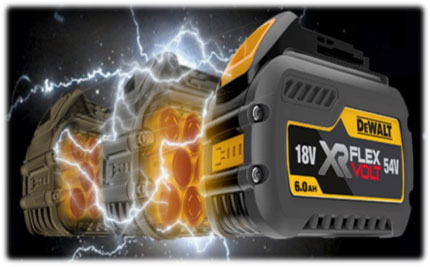 DEWALT XR FLEXVOLT battery stands at the forefront of cordless technology
World's first convertible 18/54V battery, offering unprecedented levels of power
Provides the unique ability to power even heavy duty construction power tools
Completely backwards compatible with existing DEWALT XR 18V products
Offers market-leading runtime in 18V products, with the option to amplify its voltage to power newly developed 54V heavy duty construction equipment
DEWALT accompany this system with the revolutionary XR FLEXVOLT range: cordless, heavy duty construction power tools with all the power of corded.