Large-area clamping and spreading
Ideal for sensitive workpieces and right angles

Clamping force up to 7000N

Very large parallel clamping surface

With 3 pressure caps to protecty delicate surfaces

Can be converted to spreading function with no need for tools
The large, perfectly parallel jaw faces are characteristic of the original BESSEY K Body REVO. It allows easy clamping and spreading of sensitive surfaces and right angles. Even round and pointed workpieces. And the best thing is: thanks to their extra-large contact surfaces, the original BESSEY K Body REVO and the UniKlamp are both universally applicable – even behind and to the side of the high-quality profiled rail. This allows you to clamp in locations that conventional screw clamps are unable to reach. That's guaranteed!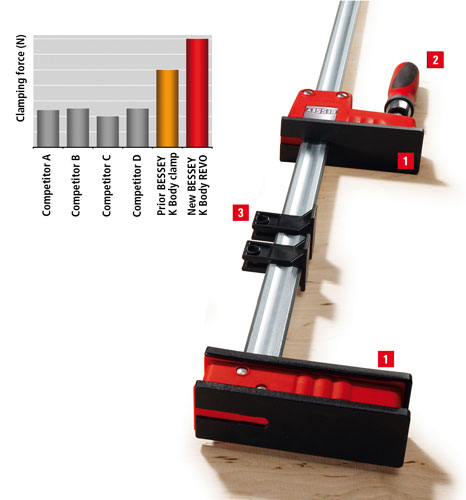 Your benefits at a glance:
Parallel clamping surface with jaw protection caps


The extremely large flat clamping surfaces made of impact and break resistant polyamide are extremly powerful and exactly parallel. The three removable pressure caps are repellant to glue, replaceable and are also resistant to paint and grease solvents.

2-component plastic handle


High-quality 2-component plastic handle in polypropylene (PP) with soft plastic insert for comfort while working.

Protective workpiece contact

elements

The workpiece contact elements made from impact resistant polyamide prevent direct contact by the workpiece on the rail when the clamping surface is fully deployed. With TK 6 table clamps it is easy to fasten the K Body REVO clamps.
World Class Parallel Clamping
Anywhere where high pressure clamping, 90 degree clamping or powerful spreading is required the new BESSEY K Body REVO clamp is the ideal tool. With clamping forces of up to 7,000 N, large clamping surfaces and sensible accessories this clamp can do the job. The BESSEY K Body REVO clamp is also ideally suited for accurate adjustment of corners and offset edges.
---
| | |
| --- | --- |
| | |
---
* The universal clamp for clamping and spreading with large flat clamping faces that stay parallel so no packing pieces are needed
* Faces super polyamide impervious to glue & resin
* Cold drawn steel rail
* Plastic stop end for hanging
* Plastic can be taken out and heads reversed for spreading
Opening UK60 600mm
Speeding width 172-720mm
Depth 80mm
Rail 20 x 5mm
Weight 0.93kg approx